Feast of Our Lady of Walsingham - 24 September
[Originally posted on 24 September 2006, and updated on 24 September 2007, 24 September 2008, and 24 September 2010]
Pilgrimage to the Land Known as "Our Lady's Dowry"
O England great cause thou hast glad for to be
Compared to the land of promise Sion
To be called in every realm and region
The Holy Land, Our Lady's Dowry ...
Five years ago today - on the Feast of Our Lady of Walsingham, I was on
pilgrimmage to the Shrine of Our Lady of Walsingham
in the picturesque village of Little Walsingham in Norfolk, East Anglia, England.
The Blessed Virgin Mary, under her title of Our Lady of Walsingham is the patroness of England (as well as the Anderson household).
Historical Background
Walsingham has been a place of pilgrimage since medieval times. At one time, it was ranked among the 3 most important pilgrimage sites in Europe, along with Santiago de Compostela and Rome.
The original Shrine of Our Lady of Walsingham was founded in 1061 by Richeldis de Faverches, who was taken in spirit to Nazareth and asked by Our Lady to build a replica, in Norfolk, of the Holy House of the Annunciation. The Shrine of the Holy House stood for almost 500 years as a place of devotion to the Holy Virgin Mother of God and the Incarnation of Her Son, before it was destroyed by Henry VIII at the Reformation.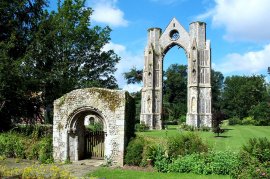 "Many barren years passed until the Slipper Chapel, a 14th century wayside pilgrim chapel just outside the village of Little Walsingham, was restored and pilgrimage to Walsingham in honor of Our Blessed Lady began once more." Originally dedicated to St. Catherine of Alexandria, this wayside chapel had served medieval pilgrims on their way to England's Nazareth. Just as on Mount Sinai Moses took off his shoes because he was on holy ground, so pilgrims used to remove their shoes at the Slipper Chapel (hence, its name) and walk the Holy Mile into Walsingham barefoot.
In 1934, the English Bishops named the Slipper Chapel the
Roman Catholic National Shrine of Our Lady
. The Slipper Chapel's first Mass since the Reformation was celebrated there on August 15, 1934, and on September 8, 1938, the Shrine was re-consecrated by the local Bishop.
The most important image in the Chapel is the
Statue of Our Lady of Walsingham
.
From the Women for Faith & Family website:
Our Lady of Walsingham


by Raven Wenner
Our Lady of Walsingham Church
Houston Texas

In AD 2000, The Holy Father John Paul II decreed that the feast of Our Lady of Walsingham, mediaeval patroness of England, and in modern times patroness of all English-speaking peoples, is now celebrated on September 24th in England. It is a solemnity for all parishes in any part of the world named for Our Lady under this title.

Our Lady of Walsingham was formerly celebrated on March 25th, "Lady Day" (Feast of the Annunciation), but for ecumenical considerations was moved to September 24th. (September 24 in England had been the feast of Our Lady of Ransom, who was entreated for the re-conversion of England, "Our Lady's Dowery".

The feast of Our Lady of Walsingham was celebrated for the first time on the new date in 2001. The feast of the Annunciation is increasingly celebrated as a pro-life feast, considering children in the womb; Our Lady of Walsingham's feast asks us to contemplate the joy of the Incarnation in the simple family life of the Holy Family at Nazareth. The new date and emphasis on this feast is timely considering how family life is under attack in Western culture.

----------------------------------------------------------------------------



Our Lady of Walsingham


by Joanna Bogle
Voices' Contributing Editor

Walsingham is England's national shrine to Our Lady, and a major place of pilgrimage and prayer. It is in Norfolk, a few miles from the North Sea, and is a small village set in the green countryside characteristic of this corner of Britain. The shrine dates back to the 12th century, when the local lady of the manor, Richeldis, had a vision of the Holy House – the home of the Holy family at Nazareth – on this spot. For centuries, pilgrims visited here and Our Lady of Walsingham was honoured with countless processions and prayers. Springs of water – they still exist today – were said to have healing powers. A great priory drew men who devoted themselves to the religious life. At the shrine itself, the image was always surrounded by candles, flowers, and gifts left by grateful pilgrims who had knelt there in prayer.

In the early 16th century, among those who came were the young king Henry, and his wife Catherine. They were praying that God would grant them a son. England had seen terrifying wars in an earlier generation as the houses of Lancaster and York battled out their struggle for supremacy, and now stability was needed for the new ruling house of Tudor. It was not to be. Catherine bore several children, but all died in infancy except one daughter, Mary. Henry, angry and disappointed, decided to marry his mistress Anne Boleyn. He sought an annulment of his marriage through the Church, but failed to obtain it. Divorcing Catherine unilaterally, he married Anne – who by then was carrying his child – and announced himself head of the Church. The Lord Chancellor, Thomas More, and the Bishop of Rochester, John Fisher, were beheaded at the Tower of London in 1534 for refusing to affirm him in his claims, maintaining instead that only the Pope, the successor of Saint Peter, could hold that office. . Needing funds, Henry turned on the Church and crushed monasteries and priories. On the excuse of its being idolatrous, the shrine at Walsingham was destroyed and the statue burned. For some 400 years, there were no more pilgrimages, processions, or signs of devotion to Mary in this quiet village.

The shrine was revived in the early 20th century – an Anglican vicar researched the history and re-created the Holy House in a new shrine, and a Catholic lady obtained the old "Slipper Chapel" just outside the village and this became the revived Catholic centre of devotion. Today, there are pilgrimages throughout the summer and the Catholic shrine has its own large church built of attractive local stone. Pilgrims pray and sing as they walk the "Holy Mile" – traditionally barefoot – from the village. Schools, parish groups, Catholic organisations – all come with their banners and their choirs, their sandwiches and their children, to greet Our Lady at a place which combines the pleasures of unusually beautiful countryside with an atmosphere of real devotion and joy. Some groups stay for days – a local farmer rents out fields in which large groups of young pilgrims and families can camp – and in recent years Walsingham has seen a revival of Eucharistic adoration and confession, promoted by "Youth 2000", a major initiative of the "John Paul 11 generation".

When Pope John Paul visited Britain in 1982 the image of Our Lady of Walsingham was brought to London where it was the centrepiece of a major rally attended by the Holy Father. Many Catholic families, churches and schools, have copies of the image: it is an unusual one in which Mary is seen seated, as a dignified queen wearing a simple Saxon-style crown and carrying the Christ-child seated upright on her lap. Honour to Our Lady of Walsingham is linked to prayer that the people of England may once again return to the practice of the Catholic Faith: Our Lady of Walsinghan, pray for us!
From the September 2007 issue of the
Walsingham Newletter
:
... The message of Walsingham, from the very beginning, has been the message of the Incarnation. "The Word was made Flesh and dwelt amongst us." Pilgrimage is a great way of expressing the idea that God came to share our human life, it is a sign that we are journeying ever closer to God and in this way it is sacramental. It reminds us that we can meet God in our everyday lives and not only in church. Mary, who attended to the human needs of her Son and walked with him on his journey from Galilee to Jerusalem and the cross, will join us on our journey. In relating Mary to the Eucharist Pope Benedict finishes by saying "She is the Immaculata, who receives God's gift unconditionally and is thus associated with his work of salvation. Mary of Nazareth, icon of the nascent Church, is the model for each of us, called to receive the gift that Jesus makes of himself in the Eucharist."



~ Noel Wynn S.M.
From the Medieval Saints Yahoo Group
:
Feast of Our Lady of Walsingham

Also known as Virgin by the Sea, site also known as England's Nazareth

Shrine established in 1061, priory in 1150

Commemorated September 24



"Let all who are in any way distressed or in need seek me there in that small house that you maintain for me at Walsingham. To all that seek me there shall be given succour."



Until the martyrdom of St. Thomas a Becket at Canterbury in 1170, Walsingham was England's most celebrated and visited shrine. Many miracles were attributed to Our Lady of Walsingham, including one in which Kind Edward I was saved from a piece of falling masonry. There constructed shrine was recently voted England's favourite spiritual place in a poll of BBC Radio 4 listeners.


Our Lady of Walsingham


http://www.catholic-forum.com/saints/mary0018.htm



In 1061 Lady Richeldis de Faverches, lady of the manor near the village of Walsingham, Norfolk, England, was taken in spirit to Nazareth. There Our Lady asked her to build a replica, in Norfolk, of the Holy House where she had been born, grew up, and received the Annunciation of Christ's impending birth. She immediately did, constructing a house 23'6" by 12'10" according to the plan given her. Its fame slowly spread, and in 1150 a group of Augustinian Canons built a priory beside it. Its fame continued to grow, and for centuries it was a point of pilgrimage for all classes, the recipient of many expensive gifts.

In 1534 Walsingham became one of the first houses to sign the Oath of Supremacy, recognizing Henry VIII as head of the Church in England. Dissenters were executed, and in 1538 the House was stripped of its valuables, its statue of the Virgin taken to London to be burned, its buildings used as farm sheds for the next three centuries.

In 1896 Charlotte Boyd purchased the Slipper Chapel and donated it to Downside Abbey. In 1897 Pope Leo XIII re-founded the ancient shrine of Our Lady of Walsingham, and pilgrimages are permitted to resume. The statue of Our Lady is enshrined in 1922 beginning an era of cooperation at the shrine between Catholics and Anglicans. In 1981 construction began on the Chapel of Reconciliation, a cooperative effort between the two confessions, and located near the shrine. The feast of Our Lady of Walsingham was reinstated in 2000.

-----------------

Walsingham Priory


http://www.newadvent.org/cathen/15543a.htm



Walsingham Priory stood a few miles from the sea in the northern part of Norfolk, England. Founded in the time of Edward the Confessor, the chapel of Our Lady of Walsingham was confirmed to the Augustinian Canons a century later and enclosed within the priory. From the first this shrine of Our Lady was a famous place of pilgrimage. Hither came the faithful from all parts of England and from the continent until the destruction of the priory by Henry VIII in 1538. To this day the main road of the pilgrims through Newmarket, Brandon, and Fakenham is still called the Palmers' Way.

Many were the gifts of lands, rents, and churches to the canons of Walsingham, and many the miracles wrought at Our Lady's shrine. Henry III came on a pilgrimage to Walsingham in 1241, Edward I in 1280 and 1296, Edward II in 1315, Henry VI in 1455, Henry VII in 1487, and Henry VIII in 1513. Erasmus in fulfilment of a vow made a pilgrimage from Cambridge in 1511, and left as his offering a set of Greek verses expressive of his piety. Thirteen years later he wrote his colloquy on pilgrimages, wherein the wealth and magnificence of Walsingham are set forth, and some of the reputed miracles rationalized.

In 1537 while the last prior, Richard Vowell, was paying obsequious respect to Cromwell, the sub-prior Nicholas Milcham was charged with conspiring to rebel against the suppression of the lesser monasteries, and on flimsy evidence was convicted of high treason and hanged outside the priory walls. In July, 1538, Prior Vowell assented to the destruction of Walsingham Priory and assisted the king's commissioners in the removal of the figure of Our Lady, of many of the gold and silver ornaments and in the general spoliation of the shrine. For his ready compliance the prior received a pension of 100 pounds a year, a large sum in those days, while fifteen of the canons received pensions varying from 4 pounds to 6 pounds. The shrine dismantled, and the priory destroyed, its site was sold by order of Henry VIII to one Thomas Sidney for 90 pounds, and a private mansion was subsequently erected on the spot.

The Elizabethan ballad, "A Lament for Walsingham," expresses something of what the Norfolk people felt at the loss of their glorious shrine of Our Lady of Walsingham.
------------------

More on Our Lady of Walsingham at:

http://www.udayton.edu/mary/resources/walsh.html




http://www.walsingham-church.org/




http://www.walsingham.org.uk/
The Prayer of the Feast:
Lord God, in the mystery of the Incarnation, Mary conceived your Son in her heart before she conceived Him in her womb. As we, your pilgrim people, rejoice in her patronage, grant that we also may welcome Him into our hearts, and so, like her, be made a holy house fit for His eternal dwelling. We ask this through Our Lord Jesus Christ, your Son, who lives and reigns with you in the unity of the Holy Spirit, one God for ever and ever. Amen.





Our Lady of Walsingham,
pray for us.
Links:
Official Shrine Site
The Virgin by the Sea; Our Lady of Walsingham (University of Dayton)
Patron Saints Index: Our Lady of Walsingham
Our Lady of Walsingham (MaryPages.com)
Our Lady of Walsingham Catholic Church (Anglican Use) - Houston, TX
Orthodox Christian Society of Our Lady of Walsingham
Fr. Finigan's Walsingham posts at The Hermeneutic of Continuity
(NB: I happened to meet Fr. Finigan while on my pilgrimage 5 years ago, although at the time I didn't know who he was. It was only later, after he started his blog and I saw his photo, that I recognized him as the priest with whom I had shared a laugh over Cardinal Ratzinger having put "the smackdown on heresy" and his recent election as Pope meaning that "the cafeteria is now closed".)
Previous Pro Ecclesia posts on this subject:
The Wrecks of Walsingham
Novena in Honor of Our Lady of Walsingham - Day 1
Novena in Honor of Our Lady of Walsingham - Day 2
Novena in Honor of Our Lady of Walsingham - Day 3
Novena in Honor of Our Lady of Walsingham - Day 4
Novena in Honor of Our Lady of Walsingham - Day 5
Novena in Honor of Our Lady of Walsingham - Day 6
Novena in Honor of Our Lady of Walsingham - Day 7
Novena in Honor of Our Lady of Walsingham - Day 8
Novena in Honor of Our Lady of Walsingham - Day 9
National Catholic Register on "Our Lady's England"
London: Plans Unveiled for Memorial to Pre-Reformation Shrines
[UPDATED]
EWTN Documentary 2008 - "Walsingham: England's Nazareth"
A Memorial in Chelsea to the Marian Shrines Destroyed in the English Reformation
Fr. Finigan's Day Trip to Walsingham
Feast of Our Lady of Walsingham - 24 September
Our Sacred Spaces
Catholic Cultural Heritage Images - Recta Ratio Features Shrine of Our Lady of Walsingham
A Couple More Walsingham-Related Posts By Fr. Finigan at The Hermeneutic of Continuity
"Sinne is Where Our Ladye Sate"
Morris Dancing at Walsingham
Our Lady of Walsingham - 24 September
Photos, Postcards, and Mementos of My 2005 Pilgrimage to Walsingham
Some Walsingham Pilgrims Causing Consternation for Residents of Medieval Village
Impressions of England
Pilgrimage to the Shrine of Our Lady of Walsingham in Norfolk, England
Labels: Devotionals, England, History, Our Blessed Lady, Prayer, Saints and Martyrs, Traditional Feast Days, Walsingham